We live an increasingly automated world. With the rise Siri, Amazon Echo, and Google Home, people enjoy the convenience of working with automated and interactive forms of virtual assistance. The introduction of chat-bots as a strategy for marketing and advertising a business is a quick and relatively cost-effective way to stimulate engagement. Chatbots are computer-generated programs that can provide updates, trending news, and convey beneficial messages. Reducing the need for customer service representatives, these automated systems can provide either text or voice generated answers to inqueries about the products and services that a business offers.
Chatbots on websites are notoriously known as an instantaneous way to provide customer service and enhance the experience and expectations of customers who may be searching for specific products or discounts. Real-time communication can harbor loyalty among customers, promote brand awareness, which can therefore lead to growth for the company. Chatbots can provide a unique and creative introduction to a business and help generate reach. Facebook is one platform that allows users to run News Feed advertisements that operate instantly through a chatbot. Moreover, the emergence of Facebook's Customer Chat Plugin allows website owners to instantaneously link chatbots to their websites.
Chatbots can provide a better experience for existing customers, while also connecting the brand to new customers. These virtual assistants transform automated emails into playful and personalized forms of communication between a brand and a consumer. If an individual is introduced to a company, a chatbot may be a form of proactive interaction between a brand and a potential consumer. Chatbots have the ability to reach out to a customer and ask them in advance if they can assist them in any way. This is effective because most people like to receive answers instantly as opposed to waiting for a representative on the phone. Chatbots allow businesses to be available to their customers beyond their normal hours of operations. Regardless of where a person may be or what time it is, a chatbot is easily accessible 24 hours a day, 365 days of the year.
These sophisticated programs have the ability to collect and analyze consumer data such as tracking customers' purchasing patterns. Moreover, chatbots are a way for businesses to gain insight and feedback about changes or recommendations that need to be taken into consideration. Furthermore, their usage generates expert advice and knowledge regarding intricate questions designed to answer a customer's question and provide them with the knowledge and capabilities to further utilize the products and services that the business offers. They serve as a database for information, but can also be a way to directly link a customer with an actual agent who can further guide them to provide adequate solutions to their questions, comments, and concerns. Lastly, chatbots can digitally track inventory and inform customers when certain products are out of stock.
By taking advantage of technological advancements and having knowledge of trends such as the increased implementation of all marketing channels, then a company will have a greater opportunity to improve their campaigns and as a result increase their sales revenue. Adapting to change will help businesses stay relevant and engaged.
Take a look at our infographic below, 2018 The Year of the Chat Bots.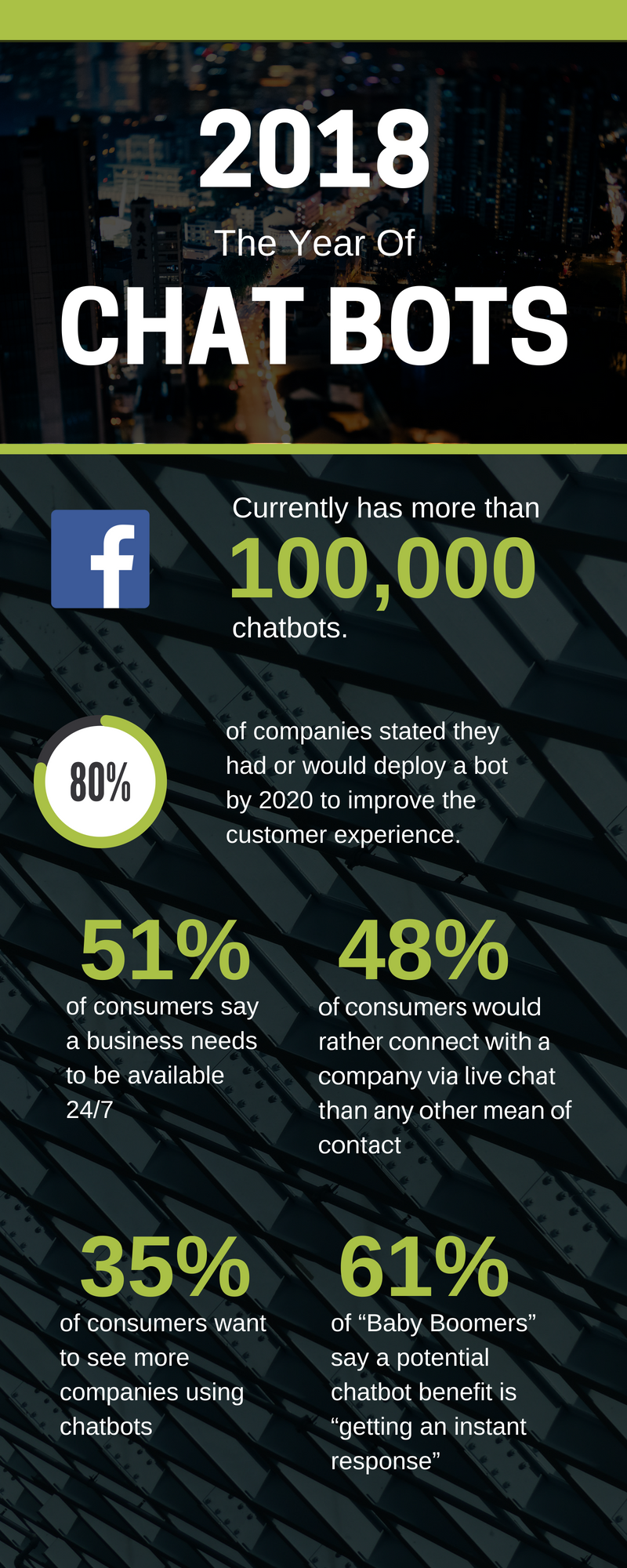 Sources:
https://www.adweek.com/digital/gunny-scarfo-wire-stone-guest-post-chat-bots-marketing/
https://martechtoday.com/how-companies-are-chatbots-marketing-209475
https://venturebeat.com/2018/02/07/understanding-chatbot-marketing-in-the-ever-changing-world-of-facebook/
https://www.forbes.com/sites/forbesagencycouncil/2017/12/08/everything-you-need-to-know-about-chatbot-marketing/#1668947a509a
Featured Image Photo by Alex Knight on Unsplash
Infographic by Stephen Nebel of Connectivity Strategy